Like a lot of people, I customize the appearance of my phone. Every solstice and equinox, I crack open my transparent case with a separator and slap a new vinyl decal on the back. Lately, I haven't found a decal I liked at the usual places like GelaSkins or Decal Girl, so I experimented with Unique Skins, where you can upload an image and they will custom print a vinyl decal. Since you need to have the rights to the image that you upload, I decided to do my test using one of the caste mark graphics I made several years ago. Even though the vinyl used is a bit thinner than, say, Decal Girl uses, the result isn't bad: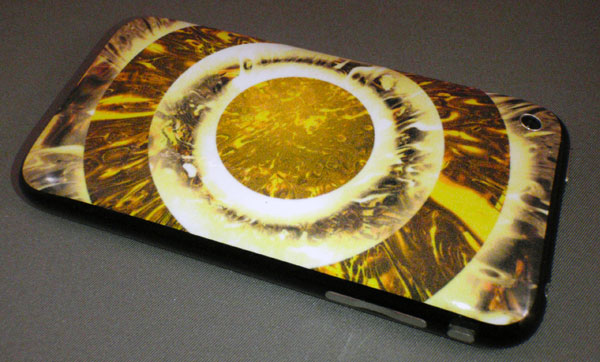 At 700×700 pixels, the source graphic (which you can reach by clicking on the smaller versions on the caste mark page) have just barely enough resolution to look decent on the decal. Slightly higher resolution might look a bit better.
Most of the output I've published on this blog was started because I didn't initially know how to do it. These caste mark graphics started because I wanted to see if I could get the visual effect I wanted entirely within Bryce. I succeeded with most of them, though the sidereal marks required cheating with Photoshop to get the glow to look right. In making this test decal, I realized that I've never released the Bryce sources for these caste marks, until now. You can get the zip file with all the original sources here (16.1MB).
Feel free to use these sources to make higher resolution versions of these caste marks. Also, you have my permission to use the resulting caste mark images (or any that I've posted) to make your own device skins. Just don't sell them.