I've been playing around building mechs for Mechaton, Vincent Baker's game of giant fighty robots made out of Legos. Compared to some, I'm not that good at it yet. So far, I'm restricting myself to Lego parts that I already have, which is a bit limiting. Still, I managed to put together a basic chassis that is fairly easy to make, doesn't use too many freaky pieces and seems to be extremely versatile.
In its naked state, it doesn't look like much, but the attachments fill it out nicely. The arms have two points of articulation with a wide motion range (at the shoulder and elbow), and the lower arm can be flipped around or even swapped out for different parts that use a "locking hinge". The basic assembly is shown in the image below. In the final stage, there are two different 2×4 pieces that work for the side torso, both of which are shown. The one on the right gives a slimmer look, while the one on the left provides more options for attaching things to the front of the mech.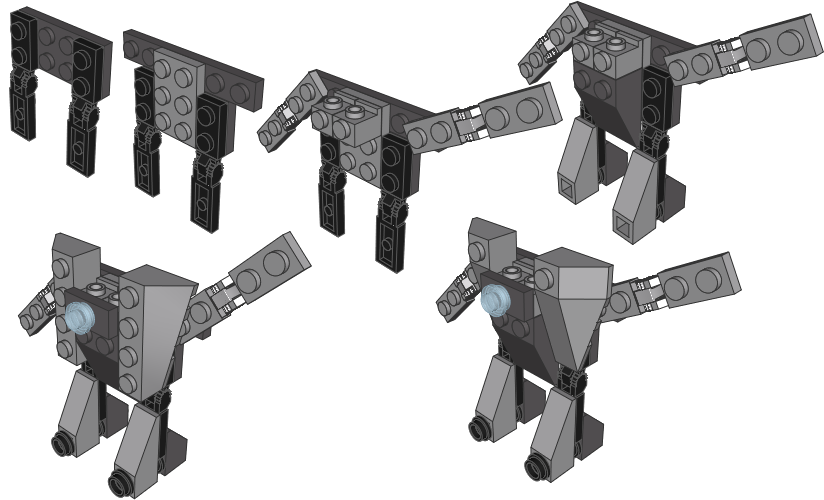 Here are some samples using both variations. Each is pictured with a plate containing an indication of how many of each type of dice the mech would use in a Mechaton game. If you've seen the game, this should be relatively straightforward. For the red dice, shorter ranges are closer to you, and one of the optional rules is used in some cases. Transparent pips are d6's, solid pips are d8's.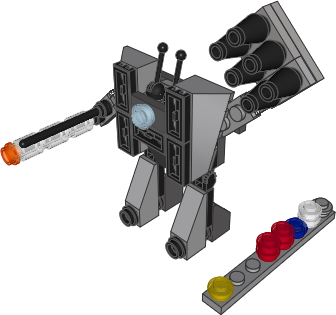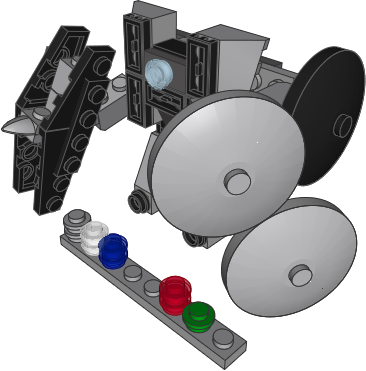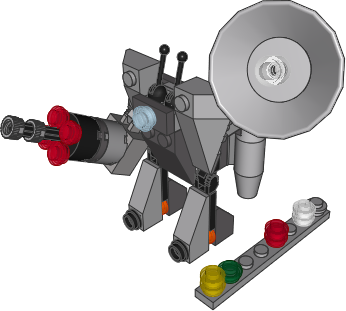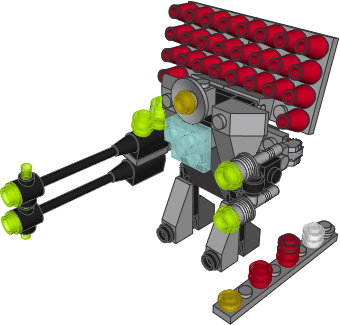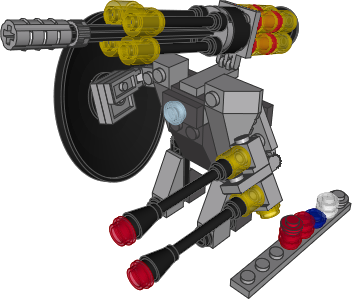 All of these models were built using Bricksmith, then rendered with LDView. In making these models, I took some liberties with the colors, as I don't have all the right colors of these bricks. Bricksmith is built on top of LDraw, and uses its file format. Some of these use one or two unofficial parts (which you will need to download if you want to use the files).
Parts for the naked chassis are:
Part
Color
Qty
Description
3020
72: Dark Bluish Gray
1
Plate 2 x 4
3021
71: Light Bluish Gray
1
Plate 2 x 3
3040b
72: Dark Bluish Gray
2
Slope Brick 45 2 x 1
3298
72: Dark Bluish Gray
1
Slope Brick 33 3 x 2
3666
72: Dark Bluish Gray
1
Plate 1 x 6
3794
72: Dark Bluish Gray
1
Plate 1 x 2 with 1 Stud
4070
71: Light Bluish Gray
2
Brick 1 x 1 with Headlight
4287
71: Light Bluish Gray
2
Slope Brick 33 3 x 1 Inverted
43720
71: Light Bluish Gray
1
Wedge 4 x 2 Sloped Right
43721
71: Light Bluish Gray
1
Wedge 4 x 2 Sloped Left
View on Peeron.com
43710
71: Light Bluish Gray
1
Slope Brick 2 x 4 Triple Left
View on Peeron.com
43711
71: Light Bluish Gray
1
Slope Brick 2 x 4 Triple Right
44301
0: Black
2
Hinge Plate 1 x 2 Locking with Single Finger on End Vertical
44301
71: Light Bluish Gray
2
Hinge Plate 1 x 2 Locking with Single Finger on End Vertical
44302
0: Black
2
Hinge Plate 1 x 2 Locking with Dual Finger on End Vertical
44302
71: Light Bluish Gray
2
Hinge Plate 1 x 2 Locking with Dual Finger on End Vertical
6141
0: Black
4
Plate 1 x 1 Round
6141
43: Trans Very Light Blue
1
Plate 1 x 1 Round

| | |
| --- | --- |
| This parts list generated by LDView. | Part images provided by Peeron. |