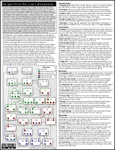 Escape From the Lost Laboratories was named one of the fifteen winners of the One Page Dungeon Contest 2011. No idea what the prize will be, yet, but it's an honor to be named.
The contest page offers a PDF containing all the winners, but also take a look at some of the other 70+ entries. I loved the idea behind Mystery of Godzina House, for example.
In honor of this event, I will be setting up DivNull Lark aimed at giving the Lost Laboratories a bit more more flesh, and some love to open source systems. Stay tuned.