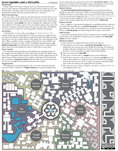 Seven Spindles and a McGuffin was named one of the 24 winners of the One Page Dungeon Contest 2012. I appreciate the honor, even more so than last year, because my entry this year wasn't as good and the competition really kicked up a notch. Thank goodness they named more winners this time around!
At the time of this post, the main site for the contest seems to have fallen down, but there is a PDF containing all the winners on a different site. (And this guy reviewed them all, mentioning this entry as "bereft of flavor or charm". Hoo-rah!) Once the site comes back up, though, check out all of the entries (over a hundred, I think). People really brought it this year.
In honor of this win, I'm releasing the source files for this dungeon (under the same CC licence as the PDF). This zip file contains one Adobe Illustrator file with the dungeon map and one InDesign file that links to the map and contains the text and other stuff. If you use these sources for something, drop me a link to the results in the comments.