My two previous mechs for Mechaton stood a little too tall. The Shorty chassis aimed for a smaller and more solid design. The result works fairly well. The basic body works like so:

One key connection in the torso (where the 4733 stud fits into the center hole of the 4032 plate above it) holds much more strongly than you might guess. Stressing the model (dropping it five feet onto a hard surface, for example) usually knocks an arm off, but very rarely comes apart at that torso join.
Fitting attachments requires a little variation in some key places, replacing a piece with one more conducive to holding the attachment. There are only a few places where this can be done, but you can get a lot of flexibility out of those areas. In this exploded drawing of the Shorty, any of the pink pieces can replace the red one. Likewise, the yellow piece can be replaced by the light yellow and blue bits.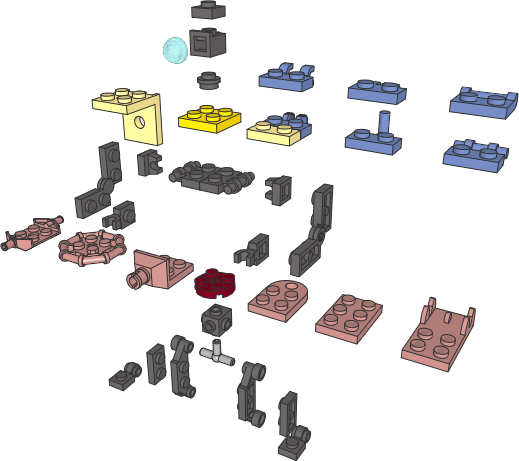 Here are some samples showing some of these replacements (as well as some other part swapping). Each is pictured with a plate containing an indication of how many of each type of dice the mech would use in a Mechaton game. If you've seen the game, this should be relatively straightforward. For the red dice, shorter ranges are closer to you, and the optional rules are used in some cases. Transparent pips are d6′s, solid pips are d8′s.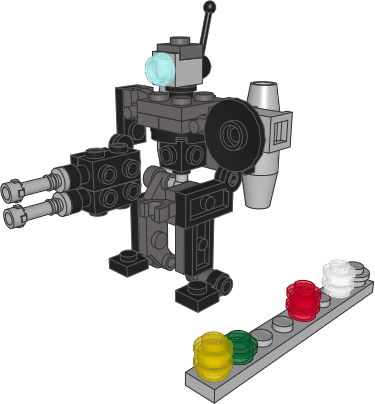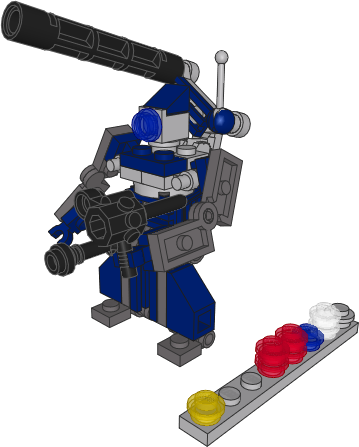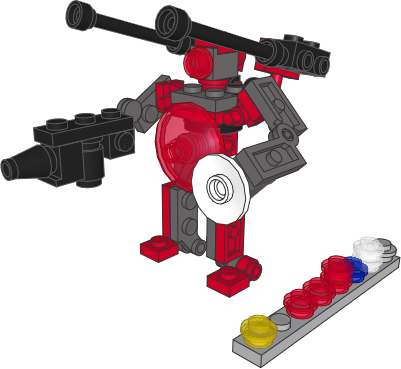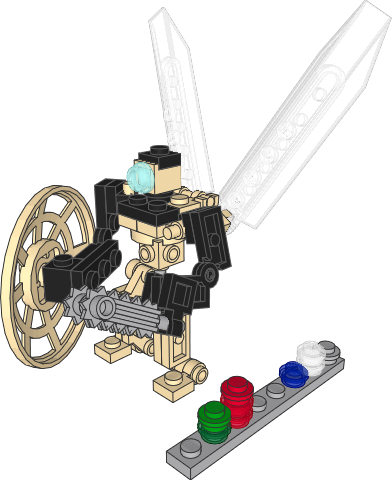 The LDraw file is here. To build the basic shorty, you'll need these parts:
Part
Color
Quantity
Description
2429
72: Dark Bluish Gray
2
Hinge Plate 1 x 4 Base
2430
72: Dark Bluish Gray
2
Hinge Plate 1 x 4 Top
2540
71: Light Bluish Gray
2
Plate 1 x 2 with Handle
2555
72: Dark Bluish Gray
2
Tile 1 x 1 with Clip
3022
72: Dark Bluish Gray
1
Plate 2 x 2
3023
72: Dark Bluish Gray
2
Plate 1 x 2
3024
72: Dark Bluish Gray
1
Plate 1 x 1
4032
72: Dark Bluish Gray
1
Plate 2 x 2 Round
4070
71: Light Bluish Gray
1
Brick 1 x 1 with Headlight
4081b
72: Dark Bluish Gray
2
Plate 1 x 1 with Clip Light Type 2
4590
72: Dark Bluish Gray
2
Plate 1 x 4 Offset
4697b
71: Light Bluish Gray
1
Technic Pneumatic T-Piece - Type 2
4733
71: Light Bluish Gray
1
Brick 1 x 1 with Studs on Four Sides
6019
71: Light Bluish Gray
2
Plate 1 x 1 with Clip Horizontal
6141
43: Trans Very Light Blue
1
Plate 1 x 1 Round
6141
71: Light Bluish Gray
1
Plate 1 x 1 Round

| | |
| --- | --- |
| This parts list generated by LDView. | Part images provided by Peeron. |